IIMSAM's secretary-general Remigio Maradona lauds ambassador's Samson Bolarin's exo-humanitarian activity in his home country of Nigeria which places hope & a smile on the faces of over 750 needy people in Nigeria.   
"The unfolding pandemic crisis has challenged national governments, the international community, and the business community in fundamental ways. IIMSAM' S-COVID-19 response is now an immediate and overarching focus for our Exo-Humanitarian Activities." In the latest of these activities, Ambassador Bolarin was unable to travel due to the Covid-19 travel restrictions worldwide. "Hopefully, he will be traveling in the offing as countries beginning to relax the worldwide lockdowns." "I want to extend my most sincere gratitude to Amb. Samson O. Bolarin who was also designated Ambassador of the ECOWAS youth council (EYC).Ambassador Ologun William Seun Emmanuel, the chairperson of EYC. Amb. Ojo Bright ENIAFE Director of Public Affairs West Africa (ECOWAS) Youth Council. For their noble humanitarian efforts, which placed hope and a smile on the faces of over 750 people in Nigeria. In an unprecedented synergy of cooperation, shared responsibility and global solidarity for concrete humanitarian deeds." "Ambassador Bolarin. In this first phase of the relief was marked to begin in Southern Nigeria. South West region severely hit by COVID-19. It received first attention." "There is phase two in the offing. Which will encompass the following states in Nigeria: Across the six states in Western Nigeria: Ekiti state(Ikere) Ondo state(Akure, Oda, and Emiloro) Lagos state (Okokomaiko) Ogun state (Ijebu mushin) Osun State (Owena) Oyo. State (Adgbayi area of Ibadan) where the relief materials and palliatives were shared. "I am proud of the Nigerian Team scoring the wining lifesaving goal with their concrete deeds delivering vital services to those in need and, in doing so, elevating the IIMSAM organisation commitment to assist in times of crisis. As the Secretary-General of IIMSAM, I commend you on your humanitarian endeavors". Through your great and vital work."
"For I believe viruses can't survive where Hearts have compassion"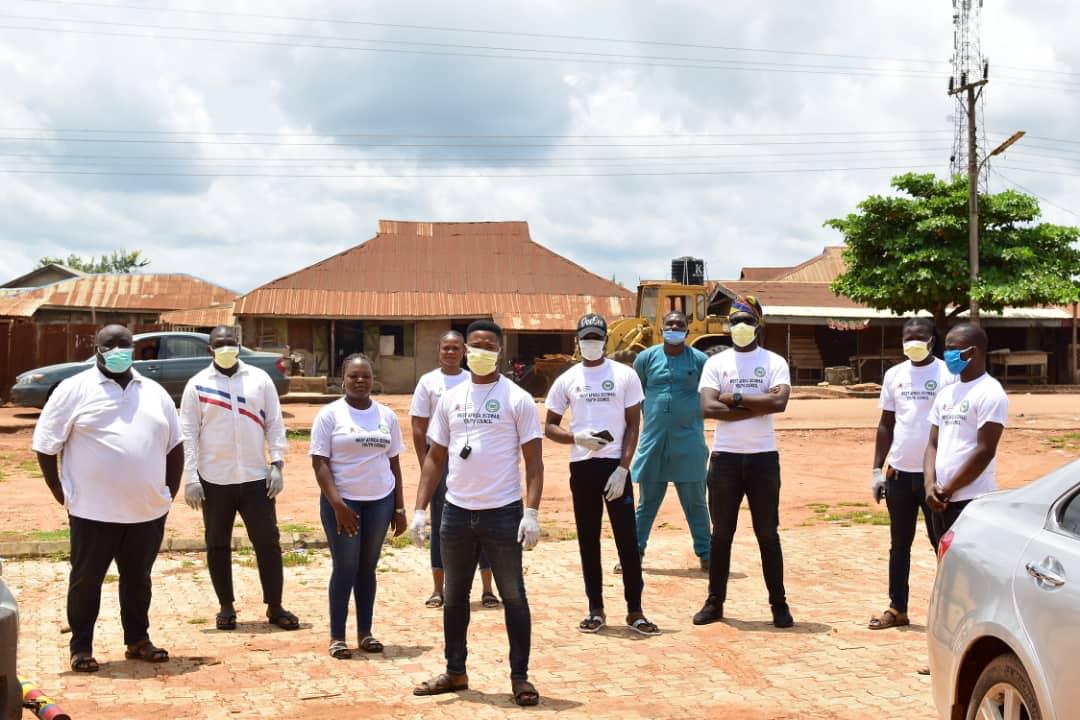 IIMSAM'S GOODWILL AMBASSADOR Mr. Samson O. Bolarin CONTRIBUTES in the fight against COVID-19 PANDEMIC IN HIS NATIVE COUNTRY  NIGERIA BY SHIPPING 2000 IMPERATIVE MASKS TO a LAGOS Humanitarian Foundation(NGO) REGISTERED IN NIGERIA.
IIMSAM's Pictures: Above left to right: IIMSAM's Sr. Adviser and Media Director Mr. Samir Al Neel, SG. R.  Maradona and GWA S. Bolarin.
  SUPPORT IIMSAM  SUPPORT LIFE!
The IIMSAM Goodwill Ambassador (Nigeria) Mr. Samson O. Bolarin, in his first Exo-Humanitarian Activity, has donated 2000 Mask, shipped to a foundation in Lagos-Nigeria arriving in Nigeria within three days. The Goodwill Ambassador is currently residing in UAE and commutes periodically to Nigeria. Due to COVID 19 travel restrictions, the Ambassador was unable to take the shipment himself for personal distribution. Ambassador Samson said: " I am proud to contribute in the fight against COVID19. "everyone has to contribute so we can all kill this terrible coronavirus."