"THERE ARE PEOPLE IN THE WORLD SO HUNGRY THAT GOD CANNOT APPEAR TO THEM EXCEPT IN THE FORM OF BREAD."
-Mahatma Gandhi
Did you know? 
The IIMSAM FEEDING CENTRE AGAINST MALNUTRITION: "ONGOING DAILY FOOD FOR LIFE PROGRAMME", 51K as of 9 October 2020 Recipients have been fed In Kisumu Kenya. Since it Re-Opened on the 9th of June after the Covid19 Hiatus.
An Average of 600+ Recipients is served on a daily basis Monday through Friday.
Latest Notification Alert: As of 12 of October 2020 – Humanitarian Distribution in a hiatus by the authorities amid the second COVID19 spike in Kisumu Kenya. We will resume the feeding program upon notification from the COVID19 in charge of Authorities in Kisumu.
Thousands have been served at the IIMSAM Sh. Zayed free distribution of spirulina Center – Kisumu- Kenya from April 2009  to October 12 – 2020
168k+
Grand Visits – 949,000+
Daily Visits – 600+
Spirulina Doses – 956,197
Spirulina Dry Grams – 1,334,320
Spirulina Wet Grams – 9,381,418
As part of the Sustainable Development Goal Agenda, the world has committed to ending preventable child deaths by 2030. The prevalence of malnutrition in children worldwide is staggering. According to UNICEF. Malnutrition or malnourishment or undernourishment is a condition that results from eating a diet that has significantly lower essential constituents of food or eating very less food. The vital components may be calories, proteins, vitamins or minerals. Malnutrition triggers an array of health problems in children, many of which are chronic. IIMSAM., along with its Strategic Partner HASH-BIOTECH Labs has been in the forefront of working to control extreme undernourishment by providing therapeutic and supplementary food (Spirulina) to the needy.
28 Jan 2018-UN-GA-RESOLUTION A /RES/72/173: Considers it intolerable  that, as estimated by the United Nations Children's Fund, up to 45 per cent of the children who die every year before the age of 5 die from undernutrition and hunger-related illness and that, as estimated by the Food and Agriculture Organization of the United Nations, about 815 million people in the world suffer from chronic hunger owing to the lack of sufficient food for the conduct of an active and healthy life, including as one of the effects derived from food insecurity, while, according to the latter organization, the planet could produce enough food to feed everyone around the world;  
IIMSAM works with "Concrete Deeds" for a world free from hunger and malnutrition in Support of United Nations System and the United Nations Sustainable Development Goals 2015-2030 in particular through IIMSAM's Mandate Goal#2 Zero Hunger "Malnutrition":

 

The IIMSAM "Sheikh Zayed Free Spirulina Feeding Centre" in Kisumu, Kenya has served thousands of recipients suffering from the ravishes of acute malnutrition and related illnesses Children-Adults-Physically-Challenged-Elderly among others with Spirulina since 2009. Including its emergency response outreach programme to rural areas of Kisumu & other field partnerships with community based organisation. IIMSAM`s Strategic-Alliances, & other stakeholders which have Joined the IIMSAM push to combat the number one killer in the world acute malnutrition through the use of Spirulina Platensis. 
"SPIRULINA PLATENSIS" WAS DECLARED BY THE UN-WORLD FOOD-CONFERENCE OF 1974 AS THE "BEST FOOD FOR THE FUTURE for Mankind". 
The "ongoing daily food for life programme" 18k+ recipients have been served already at the IIMSAM Sh. Zayed Centre in Kisumu-Kenya since it re-0pened on 9 June after the COVID-19 hiatus. an average 600+ are served on a daily basis Monday through Friday. week ending 24 – July 2020 depicted below.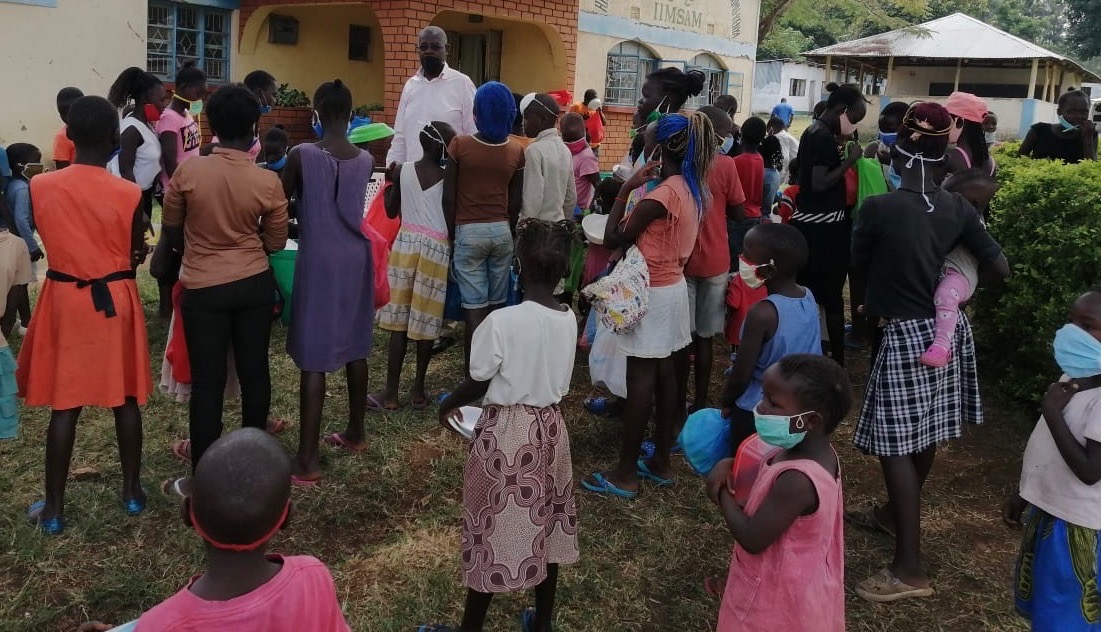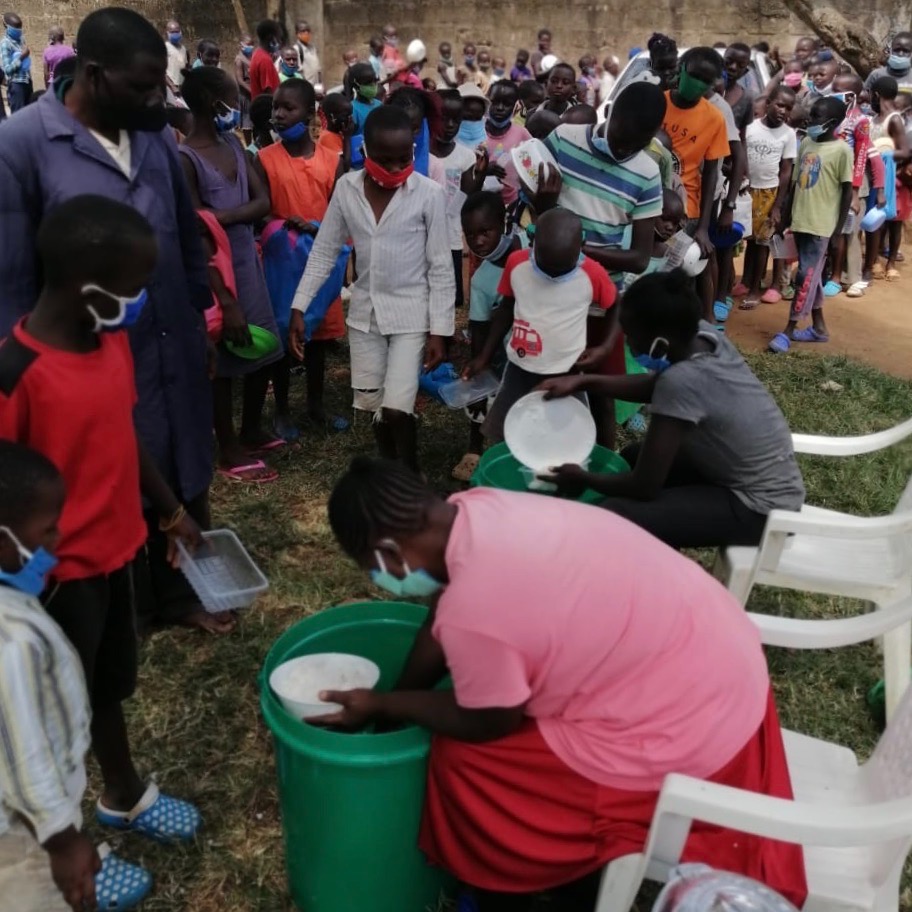 The "ongoing daily food for life program" 12k+ recipients have been served already at the IIMSAM-Sh. Zayed Centre in Kisumu-Kenya since it re-0pened on 9 June after the COVID-19 hiatus. an average of 600+ are served on a daily basis Monday through Friday. week of 6-10 – JULY 2020
(Shown in pictures above and below taken on the week of 6-10 July 2020 recipients at the Sh. Zayed Free Spirulina
Distribution Centre. Kisumu – Kenya)
SG. R. Maradona Commented:
"The food shortages have hit mainly 'Instead of Coronavirus, acute food shortages can lead to hunger and death." "Kenyan people deserve to catch the scent of victory" over hunger and malnutrition." Ourstrategic partnership with H.K. can help in combating the food shortages to prevent hunger and malnutrition, at least within our sphere of work." "Tackling hunger in Kenya is possible. But a more concerted effort needs to be made to ensure all its causes are adequately
WELCOMING DEDICATION BANNER MADE BY THE CHILDREN OF THE IIMSAM SH. ZAYED CENTRE FOR THE FREE SPIRULINA DISTRIBUTION AGAINST ACUTE MALNUTRITION. FOR IIMSAM'S PROLIFIC GOODWILL AMBASSADOR (KSA) H.E. MRS. WAFA BIN KHALIFA UPON HER ARRIVAL AT THE CENTRE.
UNSDGS 2020/2030
Together we can shape our world
Comments by the Secretary-General of  IIMSAM: "I want to give my deepest gratitude to our prolific Goodwill Ambassador H.E. Mrs. Wafa Bin Khalifa and Mr. Samir Al Neel, our Sr. Adviser and Media Director for orchestrating on short notice Ambassador's Bin Khalifa's visit to our Centre. My gratitude also for our Sr. Field Director Mr. Fredrick Lwamba and Ms. Grace A. Nyalal Sr. Fiscal Affairs for their input on this unique visit. Also, our Special-Guess and IIMSAM Advocate Mr. Saidi Obama." "I would also want to thank the following IIMSAM Supporters. Head of the Muslim community (The IMAM of local Mosque) Mr. Ramadhan Khamisi Asman & various leaders of the local Muslim community in Kisumu who gave a verbal speech thanking Amb Wafa for her humanitarian support. "Ambassador Bin Khalifa carryout out this noble act of humanitarianism in support of the IIMSAM Centre and United Nations Sustainable Development Goals Decade of Action 2020-2030 and to bring hope to those impoverished and malnourished who are recipients of our Spirulina Life-Saving Programme in Kisumu Since 2009 ."
ON SITE VISIT 26 FEBRUARY 2020 – IIMSAM SH. ZAYED FREE SPIRULINA DISTRIBUTION CENTRE  KISUMU-KENYA
IIMSAM Pictures depicts GWA H.E. Mrs. Wafa Bin Kalifa performing /distributing various items at the Sh. Zayed Centre such as but not limited to:
Awarded the outstanding students of the IIMSAM Centre-School & IIMSAM Center Employees of the month. Feeding kids, the elderly, young and adults, people of determination (Disabled) with Spirulina in liquid form. Biscuits, lamb meat was distributed as 10 sheeps were attained & slay for distribution to more than100 families. Ambassador Wafa wished her a long healthy and blessed life.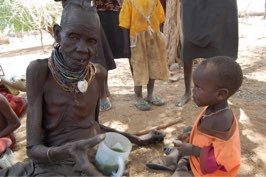 MY MOST SINCERE GRATITUDE TO EVERYONE IN IIMSAM AND ADVOCATES WHO SUPPORT THE IIMSAM MANDATE   FROM THE SECRETARY-GENERAL: REMIGIO MARADONA FOR A DECADE OF SAVING LIVES TOGETHER. (MAY-2009-DEC-2019)
I am proud to have champion through a Decade (May-2009 – Dec – 2019) of saving lives at the IIMSAM Sh. Zayed Free Spirulina Humanitarian Distribution Centre in Kisumu-Kenya. Official Members State of IIMSAM. While our journey has been long and arduous. Nonetheless, we must never let the challenges we face together affect our work to save lives as we continue in 2020, our commitment. 

Thank you all from my heart for your dedication to the organisation. Notably, senior members of our Secretariat, and the field; you all know who you are who have stayed with me through thick and thin. For those who have joined us recently as our "Goodwill Ambassadors, Advisers, Youth Goodwill Ambassadors, "inter alia." As we begin 2020, we want to take a moment to reflect on these activities (See attached flyer.) behind every action is a child and a story of inequity. We're looking forward to collaborating with you in 2020. and building on our commitment to realize the rights and improve the life of every child in support of the United Nations Development Goals 2030 Agenda to make our world a better place not only for us but, more importantly, for those future generations. 
 >> As long as poverty, injustice and gross inequality persist in our world, none of us can truly rest. <<    – Nelson Mandela
IIMSAM Kenya Senior Secretariat Members
Mr. Fredrick O. K. Lwamba
Director of Administration
Mr. Lwamba is a graduate from Nairobi University and holder of a Bachelor of Science & Education. Starting as a Professor at a national high school, Mr. Lwamba thereafter got employed by the mainstream giant national telecommunication company "Kenya Telkom" now "Orange", in the capacity of Assistant Manager for the Network Planning unit. Before joining IIMSAM, Mr. Lwamba had by virtue of his former employer Orange, the opportunity to undergo various management training courses including Advanced Supervisory management, Total Quality Management, Training of Trainers, Project Management and Executive Development training.
Mr. Lwamba started early as a philanthropist, always with a heart to help the less fortunate and needy in society. He has been passionately involved in the fight against malnutrition through the utilization of spirulina since the year of 2007.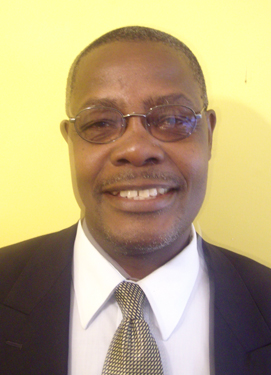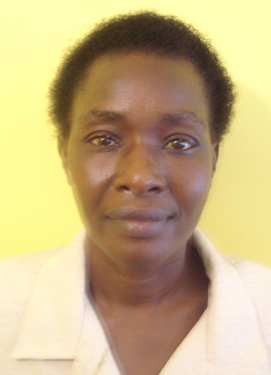 Ms. Grace A. Nyalal
Accountant
Ms. Nyalal is a Certified Public Accountant, by the K.A.S.N.E.B (Kenya accountants and secretaries national examination board) equivalent of associate degree. She currently manages the finances at IIMSAM-ECASP in Kenya. She is a trained Accountant having passed the Kenya Accounting Technicians Certificate I & II and the Certified Public Accounts (CPA 1) examinations.
Grace carries with her a wealth of experience having worked with the Kenyan National Bureau of Statistics for a period of five years. Other experiences include working at the Kisumu Healthcare Clinic, Jubilee Insurance Company and the Kenya Agricultural Research Institute (KARI NFRC).
In 2007 Grace worked with Kisumu Kids Empowerment Organization as an accountant before relocating to IIMSAM.
IIMSAM SH. ZAYED FREE SPIRULINA DISTRIBUTION CENTRE-KISUMU-KENYA-2019 SELECTED PHOTOS – ONE MILLION PLUS SPIRULINA DOSAGES HEVE BEEN DISTRIBUTED -THOUSANDS HAVE BEEN SERVED IN THE BATTLE AGAINST MALNUTRITION-2009-2019
The United Nations 17 Sustainable Development Goals (SDGs) are the world's best plan to build a better world for people and our planet by 2030. Adopted by all United Nations Member States in 2015.