The secretary-general of IIMSAM Remigio Maradona lauds IIMSAM's youngest (22-year-old) Peruvian millennial youth goodwill ambassador/Suheyn Cipriani Ms. Eco International 2019 humanitarian visits to underprivileged sectors in Peru furthering the united nations sustainable development goals with "concrete deeds."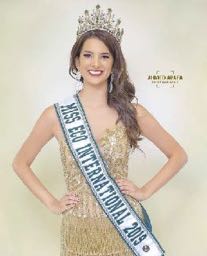 Featured above pictures from left to Rt: showing) IIMSAM-GWA/Miss-Eco International 2019 Suheyn Cipriani. (Middle-Picture from left to right) Judges: Aysel Khaled Miss Egypt 2016 – Dr Hadeel Metwali – Dr in Dermatology – H. E. Dr. Ayman Abdullah Al Baya'a – (EOSG) IIMSAM-Honorary Under Secretary-General (IIMSAM Institutional Development) and General Legal Council of IIMSAM (UAE). Dr. Amaal Resk founder-Ms Eco Int'l-IIMSAM's Special Adviser/Envoy of the SG-in Egypt- IIMSAM-GWA-Ms. Naseema Arewale. (last picture on rt)

 

Suheyn Cipriani & Dr. Amaal Resk. Picture on left-bottom: (Gala-Venue Site held at the New Cairo-Capital-Theatre-Teatro Elasema-Egypt- on the 29th of March 2019.)
Comments by the IIMSAM SG R. Maradona:
I want to take this opportunity to thank and give my gratitude to our youngest Goodwill Ambassador Ms. Cipriani for her speedy and prolific humanitarian work in her homeland Peru."  Ms. Cipriani will be raising awareness and mobilizing support for the IIMSAM mandate in the fight against the world's number one killer acute malnutrition. As well as shine a spotlight on her essential role in helping in achieving the UN Sustainable Development Goals, which were agreed upon by world leaders at UN Headquarters in New York in September 2015 to protect the planet and make a brighter future for all.
IIMSAM'S GWA/Miss-Eco International 2019 Suheyn Cipriani's
Humanitarian and Advocacy Activities on the 22-23-24 April 2019 IN SUPPORT OF THE IIMSAM MANDATE & THE UNSDGS# 1-2-9-17:
Comments by IIMSAM's-GWA-Miss-Eco International 2019  Suheyn Cipriani:
"I believe that we can work to try to decrease the amounts of malnutrition here in Perú, a lot of people do not know about all the great health benefits that spirulina has, here in Ayacucho an advocacy campaign on spirulina is needed and I intent to commence one. I want to thank Ms. Eco founder Dr. Amaal for introducing me to IIMSAM and the S.G. Remigio Maradona for believing in me and the humanitarian work that i will be doing in Peru." 
——————————————————————————————————————————————————
VISIT: 22nd-APRIL 2019-HUMANITARIAN-ACTIVITIES: Recently-Crowed Miss-Eco International 2019 Suheyn Cipriani Celebrating Earth Day with the kids as she traveled to the interior region of Peru, to be part of a show with Gatia. A non-profit she has been associated with for 2 years. This show is held in the reclusive region of kindergartens of Iquitos looking to teach children a fun way to recycle, take care of the environment and respect the planet where we live. (See pictures on Right.)
———————————————————————————————————————————————-
VISIT: 23RD APRIL 2019-HUMANITARIAN-ACTIVITIES:
IIMSAM's GWA-Miss Eco International 2019 Suheyn Cipriani visited 1 hour from Ayacucho, Perú  a small town called Chira, where schools don't have electricity, bathrooms or a secure infrastructure for children. She visited them to learn more about their needs &  also to give them financial support clothes and toys for Holy Week. She committed that this year she'll work to help them get the necessary support so their lives can be improved. (See pictures  below.)
VISIT: 24th APRIL 2019-HUMANITARIAN-ACTIVITIES: IIMSAM's-Youth-Goodwill-Ambassador/Miss-Eco-International 2019 Suheyn Cipriani visited the remote city of Iquitos to advocate tourism entrepreneurship for the community-Río Amazonas. Where settlers allied with the organization Patronato "PRO  Amazonía" Municipal District of Punchana. Ms.  Cipriani is working with others to promote Communal Ecological Tourism as part of her Ms.Eco portfolio. She is the first along with others who accompany her in her visit to the extremely isolated village-community. (See pictures below & last picture on Rt.)
DID YOU KNOW?
Ayacucho is a city in Huamanga-Province in south-central Peru. 

Miss Eco International is the biggest pageant competition in the Middle East for a cause working under the umbrella of LTCPUN – IIMSAM and the Egyptian Tourism Authorities. The main objective of the contest is to choose the best Queen to be the ECO queen for the advocacy of eco-tourism all over the world and promote the United Nations Development Goals in particular environmental degradation,

 

culturally through the exchange of cultures between queens, and to save, awaken and promote tourism and the environment at the international level.